How to Convert Outlook PST Emails to PDF Format
In this article, we briefly discussed "How to Convert Outlook Email to PDF file format". Why PDF file become important while documenting the information in different Organization and companies all over the world and some simple techniques that can help even a naive user to Convert PST file to PDF or Portable Document Format without any difficulty.
Technique to Convert Outlook Emails to PDF Format
As Different Outlook versions use PST File as Default format to store information for sending & receiving emails, messages. PST format stores important attachment related to messages, Contacts, appointment details and more. As we working in the Digital world, a wide arena of people works on PDF Format file. As PDF File format used by all over the world to view secured details in PDF Format. Hence, to Convert PST File to PDF Format can be a good option.
Advantages of Saving File from PST to PDF File Format
A large number of Forensics and Legal Department uses PDF file format to save & share essential information.
As PDF File is Independent of Platform, a user can view & read stored information according to their work preference Platform such as Windows, Linux, Ubuntu, etc.
As Adobe Reader and other PDF Viewer software easily download and available on the Internet, Professional & naive user can easily get information using this Software.
The main reason to use PDF format is that this file format is more secured as compared to other word documents format. As it is difficult to forge the PDF Document and easy to print to save the document in physical format.
As PDF Format supports Password protection and Digital Signature features that assure digital identity.
Many more advantages are there to supports PDF file format but, In below section, we discussed some methods can help the user to convert Outlook emails to PDF Format files freely.
Dual-Way to Convert PST File to PDF Format
Method 1: Using Microsoft Word Application
This is the simplest technique to move data for Outlook PST to PDF format. A user needs to copy the email information and store them into Word Document Format. Just follow the steps to follow conversion process to view Outlook file in Portable Document file:
 Open Outlook Application >> Open required Message, which required to converted in PDF format.
Copy or CTRL + A to select all message data.
Open New Word Document File >> Paste entire message in it.
 Now Click on Save as option save the file in the desired location.
 While saving the file in the desired Location, Click on Save as type Option and Select PDF File Format and Click Ok.
 Now user can view the resulted File from the conversion process of Outlook to PDF format with attachments.
Method 2: Alternative way of Convert PST File to PDF Format
Another method to store emails file backup and sharing information without Outlook application. As Outlook Does not provide a direct method to Convert Outlook emails to PDF file format.
1) Again Open Outlook >> Select require email, which user want to convert in PDF Format.
2) Click on File >> Save as.
3) Now Select the File type option as HTML Format in the desired Location.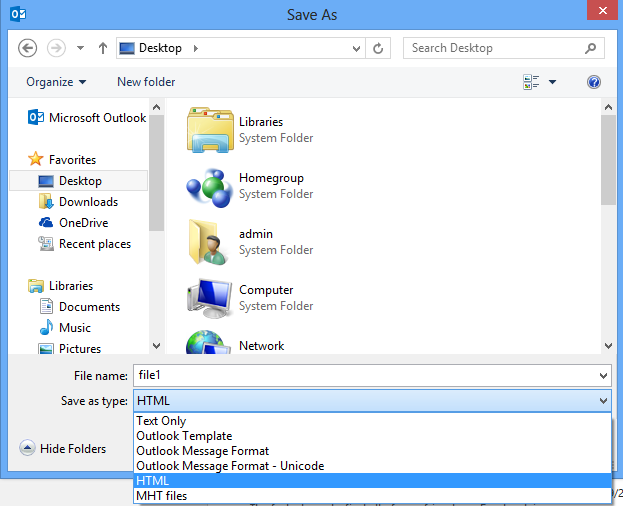 4) Now Open selected File in Word Document >> Now Open-File Section.
5) Click on Save as >> Select PDF Format option similar to the first method.
Drawback Of Using Manual Methods
Mentioned method indicate that these methods are not the perfect solution to Convert PST File to PDF format. These methods have limitation and cannot convert outlook email to pdf properly. A user has to select each file to convert in PDF Format. If Mailboxes of a user accounts holds thousand of emails then it is an impossible and tedious task to perform.
Outlook doesn't offer a direct method to convert Outlook emails to PDF Format. Even while saving the entire messages into Word document to convert in PDF Format, messages format changes while saving the file and user not able to view the detailed information properly. As Emails stored attachments within in it, discussed method can't be stored the attachments using manual methods.
Conclusion
Using Microsoft Word to convert folder of Outlook mail to PDF form, not a good option. As it takes a long time and very challenging work to save each email in Adobe format, even attachments not saved properly with it. A PDF format files most popular file as it provides different security level such as digital signature, password protection, to a file and used in various departments of Organisation that can be related to forensics, finance etc. To Convert Outlook emails to PDF file, a user can go PST to PDF Converter Tool, that can quickly convert PST file to PDF file and supports all Outlook version PST File.
The following two tabs change content below.
James smith
He is a data recovery expert who works as freelancer technical blogger. He has been in the Data recovery industry for 10+years and specialized in data recovery solutions & data management techniques. He researched on various email client issues & now willing to share information among people through the Web.
Latest posts by James smith (see all)